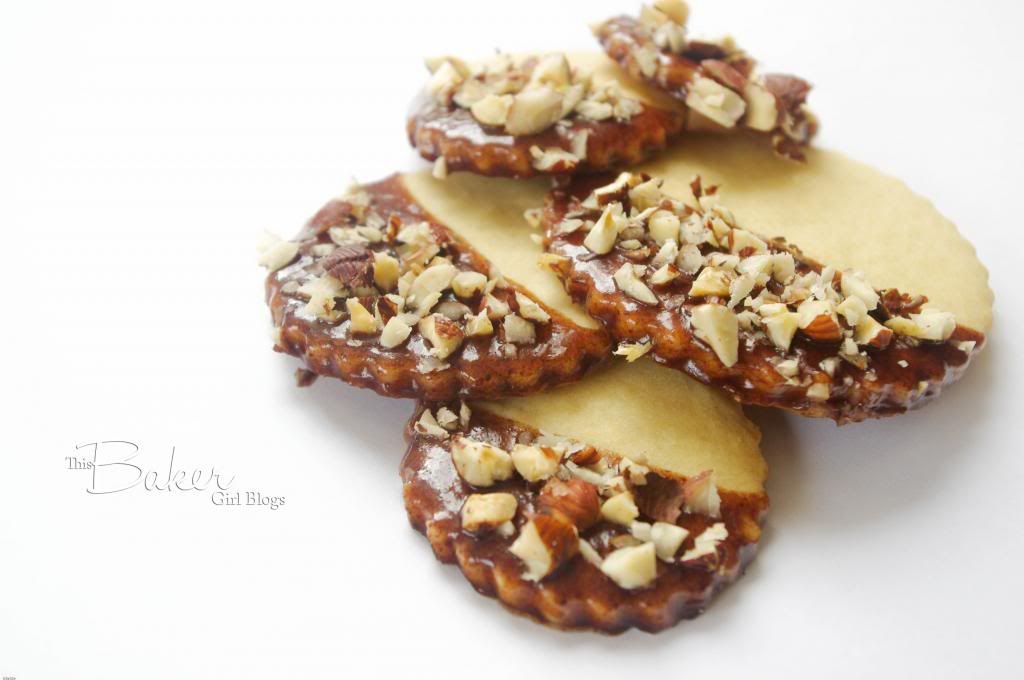 I've been re-reading The Fault in Our Stars by John Green in anticipation of the movie adaptation. Although with just 4 weeks to go before my first exam, I've had to swap my Green for Robbins (pathology) and Weinberg (cancer) and a bunch of other textbooks. I'm so not ready.
I'm not a fan of books being turned into movies, especially of ones written by my favourite authors ... but the trailer has given me high hopes. I've heard my favourite Green book, Paper Towns, will also be turned into a movie. Both names of my personal blog (no longer active) were in reference to Paper Towns and my attachment to the book leaves me unsure how I feel about a movie adaptation. Err. Hmm. Ugh. There's no way it'll look the way it does in my head, BUT Green writing the screenplay and being executive producer of the movie does leave me optimistic. So, we'll see.
My bedroom is a little Rory Gilmore-esque with hardbacks under my bed and paperbacks stacked inside my wardrobe. Besides being able to spend hours in a bookshop (and only half an hour of it is spent trying to find Wally, I promise) and buying books for myself, everyone I know who is aware of my bookworm nature is always buying me a book. Thanks, guys!
But, most recently the gift giving theme my friends and families have adopted fall under the food category. If it can be eaten, or used in the kitchen, then it can be added to the list. It's not my birthday for another 7 months but please forget the bracelet or designer bag you're saving up for and buy me a free-standing mixer, or a cast iron skillet, or a waffle maker instead. Or another book. I'm serious.
Silicone cases, candy moulds, cupcakes wrappers and toppers, and cookie cutters and amongst some of the things I've been given. And gosh I'm excited to use them all! And it's not just my friends and family, people I've never even met have been inclined to send me food related gifts. When the lovely Asmaa of
Chocoholic Hijabi
celebrated her blogs anniversary with a surprise giveaway, which yours truly was lucky enough to win, I received the cutest cupcake stickers.
And if there's any gift I prefer more than books or something food related, it's anything handmade. It's the thought that counts (it really really is). Bonus points if it comes with a handwritten note.
Amongst other things
, Asmass also sent me a lovely letter and a beautiful canvas handpainted with Arabic calligraphy. It's sitting on my desk propped on a mini easel, but if I were allowed to drill nails into my wall, I would hang it for all to see. Speaking of calligraphy paintings, I was really excited to discover Mille Arabesques - a French company specialising in '
decoration orientale
' and arabic calligraphy stickers you can apply directly to your walls. The effect is stunning! I've been browsing through their '
calligraphie arabe
' and '
stickers Islam
' and it's so difficult to pick which I like best. I guess I have no choice but to pick one for every room, hehe.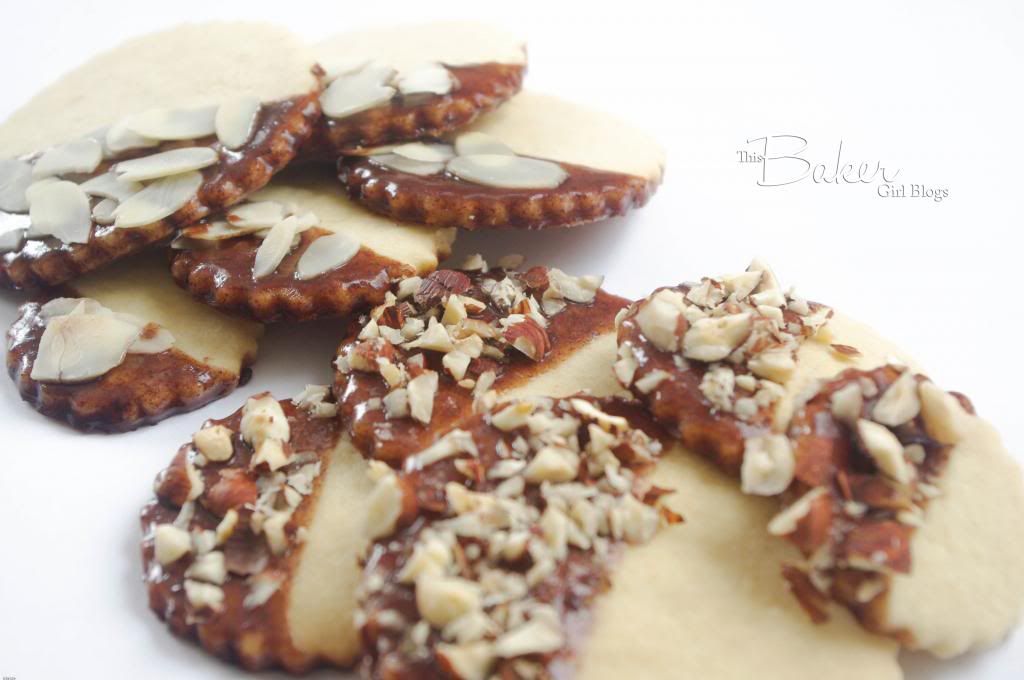 These cookies are the same
cookies I had posted for Valentine's day
, but with nuts instead of heart shaped confetti sprinkles. I actually made these ones first, but then V-Day came along and I decided the nuts just weren't cute enough. They are delicious though, and while
the V-Day cookies
may have looked prettier, I think I prefer the crunch of the nuts from these. Hey, if you're stuck just do what I did and make them both!
Half Chocolate Coated Sugar Cookies with Nuts
INGREDIENTS:
For the cookies
370g plain flour
1/2 tsp salt
1/2 tsp baking powder
240g unsalted butter
110g caster sugar
1 vanilla pod
1 egg
To decorate
200g plain chocolate, roughly chopped
280ml double cream
50g unsalted butter
150g nuts, roughly chopped
METHOD:
1. Sift together the flour, salt and baking powder and put aside.
2. In a separate bowl, cream together the butter and sugar until light and fluffy.
3. Add the egg and vanilla to the sugar mixture and mix well.
4 Add the flour mixture a little at a time and work the mixture into a dough.
5. Lightly flour the surface and roll the dough to about 1/4 of an inch thick, and use cookie cutter of your choice. Place the shapes onto a baking tray lined with greaseproof paper and bake in the oven for approx. 10-12 minutes. Once baked, place on a cooling rack to allow to completely cool.
7. Heat the cream in a pan until it starts to simmer. Pour the cream over the butter and chocolate in a heat proof bowl and allow to sit for a minute before mixing to combine.
8. Leave the chocolate mixture for a few minutes to slightly thicken. Dip half of each biscuit into the chocolate mix and sprinkle the nuts on top (I used hazelnuts and flaked almonds but you can use your favourite kinds). Place on greaseproof paper and leave them to set.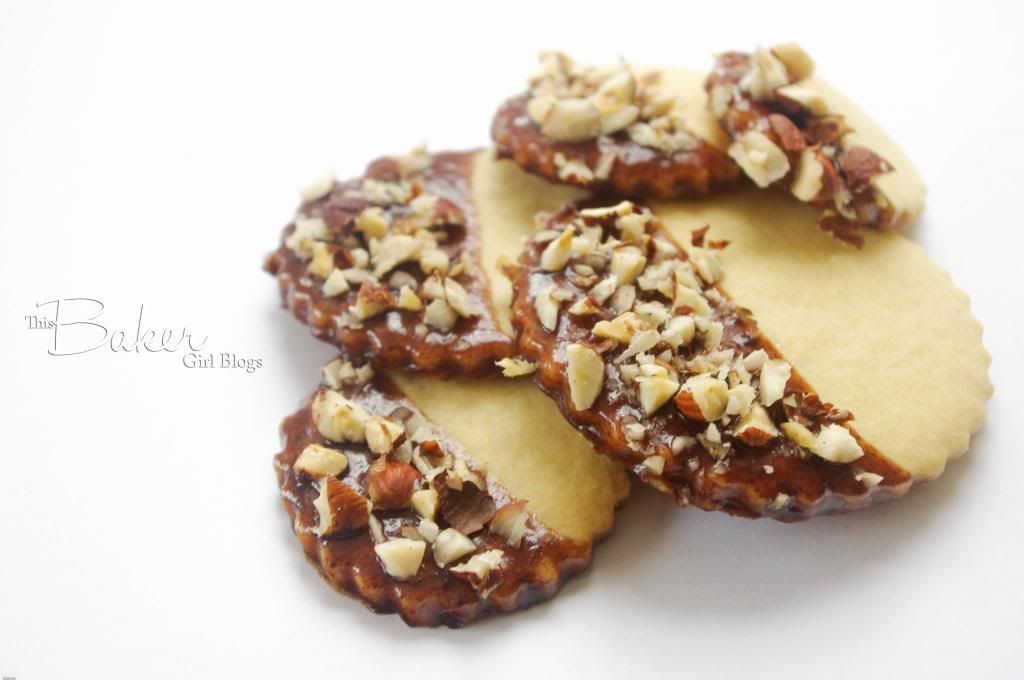 ****
Disclosure: This post has been sponsored by Mille-Arabesques. All opinions, and the recipe, are my own.