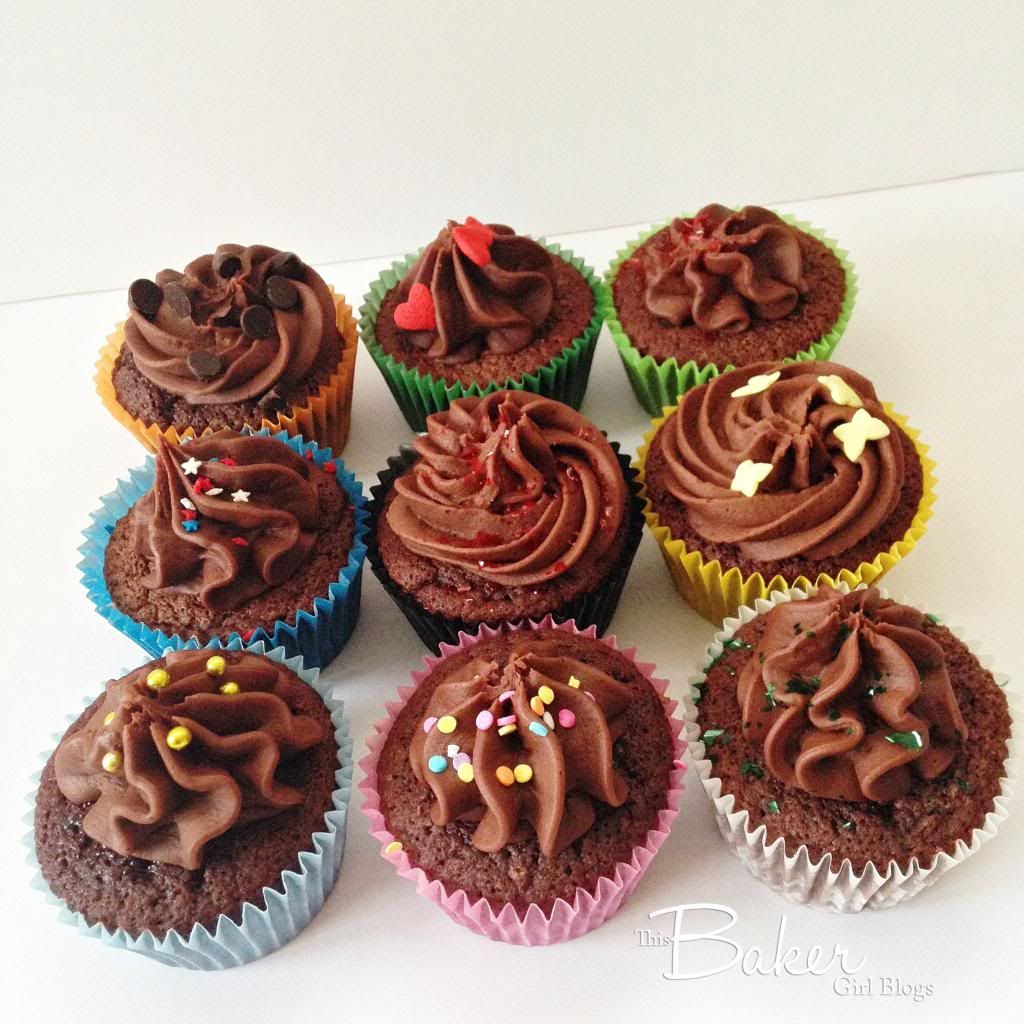 I made these cupcakes a few months ago and completely forgot to post them here. Oops. It probably had something to do with trying to recover from the day - which was an altogether overwhelming, mad, crazy, fun, and enjoyable, yet really really really stressful, and oh my gosh did I just choke on icing dust and try to lick butter off my elbow? kind of day.
Most of the food I make is usually
inhaled
consumed by family. And if it turns out all wrong (
see epic cheesecake fail of 2013 here
) we still eat it, even with my growing standards. Because, you know, it's still sugar and butter and all that other good stuff. They'll tell me if its rubbish though. As if I couldn't tell. But the disappointment tastes a little less bitter on a full stomach.
There have been a few occasions where I've been asked to bake for others. Some birthdays, a couple of charity events, and a bridal shower. I was a bag of nerves the first time someone who I didn't share DNA with asked me to bake for them. But, I'm happy to report I now actually enjoy making food for others - just ask my neighbours! And that's probably a relief because I don't know how much more my family's combined waistline could take.
When a friend (Hi Frank!) asked me to bake for a charity event, I was more than happy to say yes. But I should probably point out that all the other times I've made cupcakes for an event, I had only made two dozen, or so, and mine weren't the only food available - so if I messed up I could be all "Hey, look over there, cheese on a stick!", because everyone likes cheese on a stick and you can't get that wrong.
Frank wanted fifty. A little over two-dozen, but no big deal. But, then Frank decided on one hundered. Uh ... okay, yeah, sure. And, then I blinked and suddenly found Frank asking for two hundered. Huh? How did that happen?! Two hundered cupcakes in one day is probably not such a task for some people, but when you're used to spending two to three hours to make just twleve, the thought of making two hundered blows your mind. To add even more pressure, my cupcakes would be the only food they would be selling. Cue nervous laughter.
I've often been compared to Monica from Friends. Small, a big foodie, and pretty OCD about a lot of things. Although all my quirks probably make me Phoebe. But, you know that episode where Monica's making candy for the neighbours during the holidays? I found myself living that. Only instead of candy, it was cupcakes. And instead of neighbours, it was friends. And, remember the part where Chandler tries to help and she's yelling to not mess with the system? Yeah, my family didn't like me very much on that day. Also, I watch too much Friends.
I decided to make 100 of
my vanilla cupcakes with vanilla buttercream
, and 100 of these chocolate ones. I started baking at 8am and didn't leave the kitchen until 6pm. And besides the occasional frosting I would sneak into my mouth, I didn't eat the whole day. But I thrive under pressure and soon found myself falling into a cycle, like a one-woman cupcake making production line. After 40 cupcakes I found myself developing momentum. After 60 it was actually kind of fun. After 130 I was getting tired. After 150 I wanted to stop. After 151 I
really
wanted to stop. After 152 I wanted to eat a cupcake, but that would have set me back. After 160 I was hit by a jolt of adrenaline with being so close to the finish line. After 197 I was giggling with excitement.
Hehehehehe
. After 200 I collapsed onto the couch.
My feet were sore, my back ached and my stomach was just about ready to eat itself. Also, can you imagine the amount of washing making 200 cupcakes creates? It's a lot. Normally I wouldn't complain - I actually like washing up. Yeah it's another Monica thing - but I was kind of in need of a wash myself. After a much needed hot shower, I returned to find the kitchen spotless. Basically, my Mum is the best.
But, my job wasn't finished there. I then had the challenge of getting the cupcakes to the venue. That's where friends with cars and friends with muscle come in handy. I worried the whole journey there that the boxes would topple, or the cupcakes would crush, or that I would drop a box, or that someone else would drop a box, or that I had forgotten a box. Gah! There was so much that could go wrong! But, most of all I was worried about the reception the cupcakes would receive. Will people like them? Will they sell? Did anyone find a hair clip in theirs? Just kidding on that last one.
I was delighted to hear people loved them and they did sell. In fact, they sold out! The feedback I received was pretty overwhelming, really encouraging and just plain awesome. Besides the occiasional satisfying grunt and thumbs up I get from my brothers, I'm actually not used to hearing people express what they think of my food. Especially not such positivie feedback. I wasn't sure how to respond - "thank you" just didn't seem like enough, I wanted to kiss them all and tackle them with a bear hug. But that would have been weird. So, I settled with thank you and hoped it was obvious how much their kind words meant to me.
I learned three things from this challenge. One: Always wear an apron. By the end of the night I had butter in my hair, frosting painted across my face, and a jumper coated in icing sugar. Two: Invest in a free-standing mixer. There's only so much activity my little handheld mixer, at the bargain price of £5.99, can handle. I would probably be superwoman if superwoman baked,
and I owned one of these. In yellow
. And three: Never try to make 200 cupcakes in one day. Atleast until I get a third hand, aka
that free-standing mixer.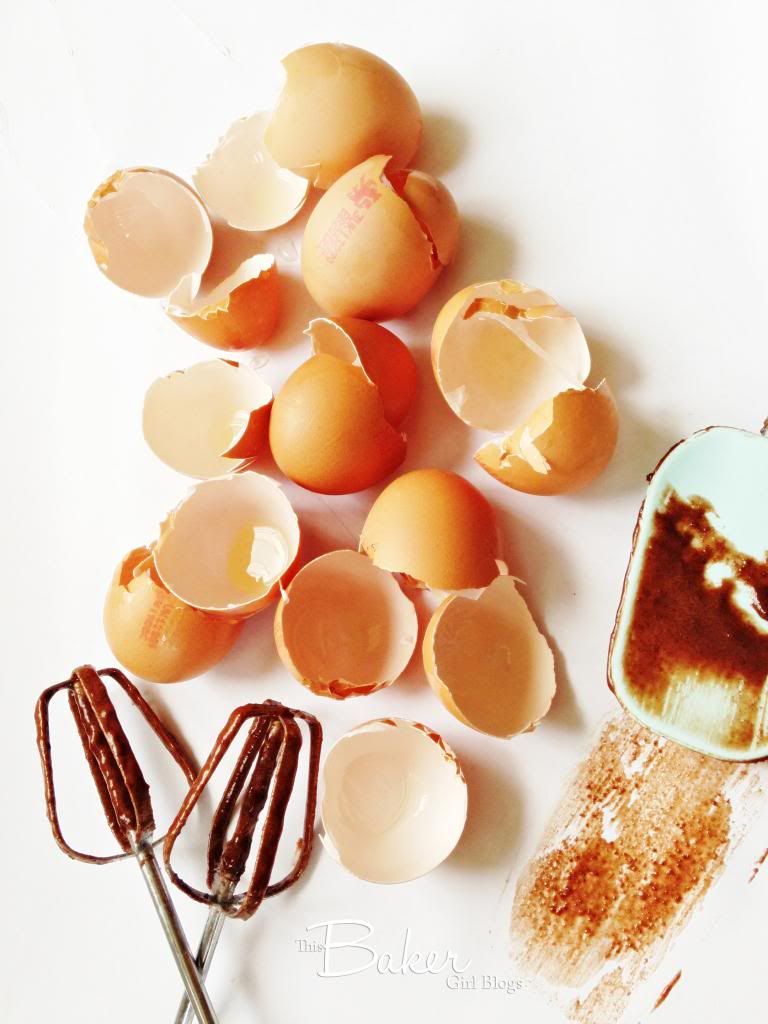 Chocolate Cupcakes with Chocolate Buttercream Frosting
THE RECIPE: Makes 12. Preheat oven to 170C/325F/Gas Mark 3
INGREDIENTS:
For the cupcakes
120g self raising flour
25g cocoa powder
170g caster sugar
1tsp baking powder
A pinch of salt
60g unsalted butter
1 Egg
145ml milk
For the chocolate buttercream
500g icing sugar
40g cocoa powder
170g unsalted butter
60ml milk
METHOD:
1. Mix together all your dry ingredients - the flour, cocoa powder, sugar, baking powder, salt and butter. Incorporate all the ingredients together and rub the butter until you get a sandy consistency.
2. In a separate bowl, mix together the egg and milk, and then add this to the dry mixture.
3. Spoon 2 tablespoons of the cake mix into each cupcake case. Bake for 20-25 minutes. Once baked, remove from the tin immediately and allow to cool completely on a cooling rack.
4. To make the frosting - whisk together the butter and icing sugar. Slowly add the milk and continue whisking for another 5 minutes. The longer you whisk the lighter and fluffier it will be. Scoop the frosting into a piping bag and frost the cupcakes. To finish, add sprinkles.